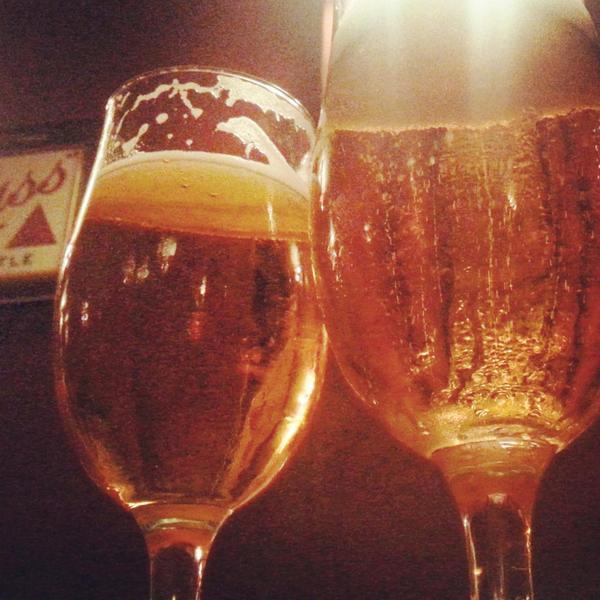 Crikey. It's been a bit of a year, hasn't it? Time to beat ourselves to death again over what were the best beers of the year. Having already done my Golden Posts, I thought I would have sufficiently limbered up the beer memory section of my brain, but alas, no, Golden Pints gets harder every year. This is obviously brilliant though, so let's crack on.
BEST UK CASK BEER
Jarl.
Jarl. Jarl. Jarl.
Jarl.
Fyne Ales Jarl.
Jarl is a stunning beer in any format, but it also shows just how great a dispense method cask can be. It's all about what the beer gains from it in terms of body and finish, and it makes most other pale ales seem embarrassingly one-dimensional.
Runner up: Magic Rock High Wire, Adnams Ghost Ship.
BEST UK KEG BEER
I've been hugely impressed by the consistency, conditioning, and clarity of flavour of Beavertown Gamma Ray this year. Foaming out of the glass, its gorgeous flavours in stunning high-definition and in perfect nick. Every. Single. Time. It's no coincidence – it's hard work and it's paying off big time.
Runners up: Pressue Drop Pale Fire, Camden Town Brewery Pils, Brew By Numbers Berlinerweisse Lime
BEST UK BOTTLED/CANNED BEER
2014 really was the year of the #can, and among the leading pack of Beavertown, Fourpure and BrewDog, a late runner emerged in the form of Camden Town's IHL. It's simply the best lager being made in the UK, and one of the best-tasting beers in the UK overall. Whilst to many it might seem like 'just another hoppy beer', the technical accomplishment of this bright, detailed and glorious beer should not be underestimated.
Runner up: BrewDog Dead Pony Club
BEST OVERSEAS DRAUGHT
I tried some amazing Czech beer when I visited Prague earlier this year, but missed out on a trip to Pivovar Kout due to having to fly home early. I was overjoyed to see some of its beers launched at Mother Kelly's last month and after one taste of the Kout 12˚ Unfiltered, there was no doubt left in my mind. Quite possibly the fullest, richest and yet most balanced lager beer in the world. Sensational.
Runners up: Firestone Walker Double Jack, Lagunitas Lil' Sumpin', Troubadour Magma
BEST OVERSEAS BOTTLED/CANNED
The reaction to Galway Bay's Of Foam and Fury double IPA from visitors to Dublin for EBBC14 was unanimous – this is truly an incredible beer that stands up to the very best from the US and the UK, and sums up in so many ways the heart and ambition in the Irish craft beer scene.
Runners up: Westbrook Gose, Oskar Blues Deviant Dale's IPA,
BEST COLLABORATION BREW
The ingenious blend of Camden Town Gentleman's Wit and The Kernel London Sour is a great achievement in its own right, but the ageing of that blend in a burgundy barrel took the resulting beer to a whole new level. Camden Town/The Kernel Gentleman's Agreement was easily one of the most memorable beers I've tasted this year, with a stunning complexity that punched well its modest strength of 4% abv.
Runner up: Beavertown/ELLC Londonerweisse
BEST OVERALL BEER
I don't want to choose, I really don't, but one beer  has impressed me more than any other this year and it's Camden Town IHL. What an incredible piece of work.
BEST BRANDING, PUMPCLIP OR LABEL
It's a very crowded field these days, and too tricky to choose one from so many, so here are my favourites of the year and why:
– Pressure Drop for Nanban Kanpai and Ballwanger
– Beavertown for Gamma Ray and Bone King
– Camden Town for IHL and Hells cans
– BrewDog for their rebrand, which grows on me day by day, and especially for how Jackhammer and Zeitgeist now look.
BEST UK BREWERY
It's nigh on impossible to pick just one anymore. The only criteria I could really use this year was whether any one brewery is as good or better than the brewery I gave this to last year – The Kernel. I think only one brewery in the UK has really nailed every single beer they sell, no matter the container, the style or the packaging, and that's Beavertown. It's been an amazing year for them. They've advanced themselves enormously, but also the craft beer scene as a whole with some amazing events and incredible collaborations.
Runners up: The Kernel, Thornbridge, BrewDog, Magic Rock, Camden Town, Weird Beard, Buxton
BEST OVERSEAS BREWERY
Dieu Du Ciel! is probably the only brewery that can get away with having an exclamation mark in its name, and that oomph is locked into every one of its beers. I was blown away by Moralité and the sheer breadth of beers they brought over for tap takeovers in BrewDog bars this year. Incredible stuff and a brewery I want to see more of.
Runners up: Firestone Walker, Cantillon.
BEST NEW BREWERY OPENING 2014
The beers knocked out by Connor on his first try with the new kit at the Dragonfly in Acton told me me this was a brewer who knows what he is doing. Hitting the ground running with well-rounded examples of best bitter, American pale ale, dry stout and hefeweizen in one the best-looking pubs in the capital is a strong start, and I'm looking forward to seeing how they grow in 2015. Special mention for Runaway Brewery whose IPA and American Brown both really impressed me this year.
Runners up: Runaway Brewery.
PUB/BAR OF THE YEAR
It has the best staff, amazing customer service, a new and improved food menu and not just the range ("40 taps of awesome") but also the management to make every one of those taps count. Every time I've been to BrewDog Shepherd's Bush I've felt like a valued customer and left full of great, great beer.
Runners up: Mother Kelly's, Hop and Berry, North Bar.
BEST NEW PUB/BAR OPENING 2014
From the moment it opened, Mother Kelly's has been making all the right moves. Fully refrigerated beer selection to enjoy there or take away, an ever-rotating selection of great draught beers and simple, well-chosen sharing boards in an area that's fast becoming a microcosm of great independent bars of all kinds.
Runners up: Dragonfly Acton, Hop and Berry. 
BEER FESTIVAL OF THE YEAR
I loved Leeds International Beer Festival this year, but when I finally went to the Independent Manchester Beer Convention this year for the first time, I saw where the DNA came from. IMBC is the most influential change to British beer festivals since CAMRA, and it's right that more people emulate its formula that brings great beer to great people in a great location. It's brilliantly organised, and the hard work behind it shows in the smiles on the faces of the attendees.
Runners up: London Craft Beer Festival, Leeds International Beer Festival.
SUPERMARKET OF THE YEAR
Waitrose would have taken this again, but M&S clinched it at the very last minute by being the first UK supermarket to sell six-packs of bottles of craft beer (Lagunitas IPA). It doesn't sound much but it's a huge step-change for supermarket retail in the UK. Waitrose and Tesco will follow.
Runner up: Waitrose
INDEPENDENT RETAILER OF THE YEAR
A tough category as the choice gets better every year, but my winner is Sourced Market in St Pancras. The selection is great, the prices decent, the option to drink on the premises very welcome, but I'm always stunned to see just how fresh the beer is (Kernel pale ales bottled yesterday you say?) and the newest beers in London are always well-represented. Special mention for newcomer Hop Burns and Black, who, whilst very far away from me, have an amazing selection that demands regular return visits.
Runners up: Hop Burns & Black.
ONLINE RETAILER OF THE YEAR
I rarely order online, but I'm going to give this one to BeerBods (disclosure: I've done a couple of write-ups for them) because they're doing great work in getting people interested in trying and talking about new beers. I also like their new 'collections' of mixed beer cases they've started to offer. They are fighting the good fight the right way, and the number of people emulating what they do shows just how right they are.
Runner up: Ales by Mail
BEST BEER BOOK OR MAGAZINE
The long awaited modern history book for beer geeks, Boak and Bailey's Brew Britannia, was as great as we had all hoped. It's not just a great read, it's also important and right that we have finally have an objective text covering the rebirth of British beer. The authors tireless research and insightful conclusions are both fascinating and, by the end, hugely reassuring. It's a real triumph.
BEST BEER BLOG OR WEBSITE
For the stories, the breathlessly excited tasting notes, the pictures, the bravery to tackle divisive issues with passion and the composure to respond to criticism with unflappable calm, my winner is Total Ales by Matt Curtis. I work closely with Matt and we're good friends, but his blog is still the one that makes me think 'Shit, I'd better write something bloody good next time'.
Runners up: Get Beer Drink Beer by Justin Mason, The BeerCast by Richard Taylor, Boak and Bailey's Beer Blog.
BEST BEER APP
Fiz provided a fun and cheerful escape from dreary commutes for good little while, but nothing connects me to beer, beer people and beer places more or better than Twitter. It's easily become the most useful, adjustable and accurate lens through which I view the world of beer.
Runners up: Fiz, Craft Beer London.
SIMON JOHNSON AWARD FOR BEST BEER TWITTERER
David Bishop (@broadfordbrewer) says what we're all thinking, or at least, what many of us would be thinking if we were as funny as him. His #twattybeerdoodles have become finger-on-the-pulse political cartoons for the world of beer, and his high-quality dad jokes take the edge of even the most ferocious hangover.  He's a lovely bloke too, annoyingly.
Runners up: @totalcurtis, @boakandbailey.
BEST BREWERY WEBSITE/SOCIAL MEDIA
When it comes to online and social media interaction, no brewery comes close to BrewDog, but Beavertown and Camden Town have both upped their game and are themselves quite far ahead of everyone else.
Runners up: Beavertown, Camden Town